Faecal PCR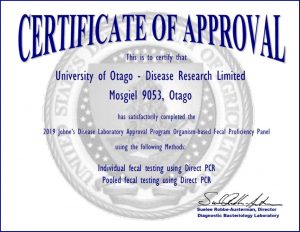 As a passionate agri-business, DRL is highly motivated to deliver a premium and cost effective diagnostic package to our clients and to give farmers the most useful information for the least cost.
fPCR (Faecal PCR) is a diagnostic test which allows the direct quantitation of the shedding of Map bacteria in faeces as a means of assessing severity of Johne's disease. The quantitative result allows a distinction to be quickly made between high, medium and low or background shedders and facilitates the prompt identification, stratification and selective culling of those most seriously affected animals as part of a Johne's management plan.
This test is not species specific and can be applied to any submitted dung samples.
DRL is one of only two laboratories in the southern hemisphere, and the only laboratory in NZ, to be accredited to the USDA for faecal PCR testing. View our USDA approvals for individual sampling and pooled sampling.
Bookings
Samples should be booked in by phone or email prior to sending. Booked-in samples will be given priority.
Tel: 03 489 4832
Email: drl@drl.net.nz
Simon: 021 249 7710
Single faecal PCR tests cost $40+GST and thereafter pricing will decrease depending on volume. Samples submitted following preliminary herd screening by serology (e.g. Paralisa) are also eligible for discounted pricing as are multiples of 10 samples – please enquire for more information.
Pooled Faecal PCR tests (Pools of 10) cost $50+GST.
Sample submission
Three to five grams (an amount approximately equivalent to one golf-ball) of cleanly pottled dung is requested for faecal PCR testing. Pottles should be labelled, clearly identifying the animal the sample has come from. Care should be taken to prevent cross-contamination of samples in transit (please do not submit samples inside examination gloves).
Please ensure that your samples are accompanied by a completed booking laboratory form or book online.
Please read our terms and conditions prior to sending your samples.
Reporting results
Expected turnaround time for results is 5–7 working days. Generally, samples received by Tuesday will be processed the same week with results being sent the following week. If results are urgent, please let the laboratory know at the time of booking.
DRL undertakes to perform all tests to the standard approved by the CVO but makes no claim to the tests being 100% accurate.
fPCR Results will be reported as Not Detected, Background, Low, Moderate, High and Very High (Supershedders).
Results will be provided to the vet involved, if indicated by the farmer. No other agency will receive the data.